When it comes to American muscle cars, only three options come to mind: the Chevrolet Camaro, the Ford Mustang, and the Dodge Challenger. Comparing these beasts is more than just lining up their specs, seeing which engine is loudest, or holding a backroad drag race.


Knowing which muscle car stands on top requires taking a variety of factors into consideration to see the whole picture. Of course, at the end of the day, you get to decide which option is best for your taste.
So, what's it going to be: the Chevrolet Camaro, the Ford Mustang, or the Dodge Charger?
Price Isn't Everything
Even if you're a budget-friendly shopper, price isn't the only factor that matters. At the same time, price does play a critical role in which car you can take home. The Chevrolet Camaro has the lowest MSRP of $25,000.The Mustang starts at just under $27,000, and the Challenger tops this category with a starting price of $28,000. This price difference tends to continue on higher-level trims as well.
How Does It Ride?
You may not believe this, but muscle cars don't have to be bulky tanks that are hard to handle. These beasts can fire off of the line and tackle sharp corners with ease. Both the Chevy Camaro and the Ford Mustang have a strong reputation for being in control of the road, especially when you upgrade to magnetic ride controls.
The Challenger ends up being a tad too heavy to compete with the Camaro and Ford's awesome abilities.
Interior Comfort
It's important to distinguish that the Mustang and Camaro are technically pony cars, which is a sub-division of muscle cars. The Dodge Challenger, however, is a genuine example of this iconic vehicle class. The larger Challenger allows for more space in the cabin. It's the only option in this trio that has a truly comfortable second row.
Get Ready, Get Set, Go!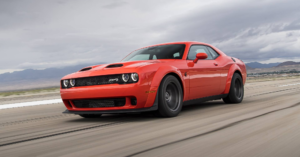 All three of these vehicles offer plenty under the hood. The Challenger comes with a standard 305 horsepower V6 engine. You can also opt for the impressive Hellcat Redeye supercharged 6.2-liter Hemi V8 that delivers 797 hp. Even with all of this power, the massive weight of the Charger ultimately slows it down off of the starting line. Its zero to 60 mpg time is right at 3.6 seconds.
The Chevrolet Camaro comes with a four-cylinder engine that offers 275 horsepower. At the higher ZL1 trim, you'll find a 6.2-liter V8 boasting 650 horsepower. The Camaro can go from zero to 60 mph in 3.5 seconds.
The Ford Mustang ends up being the fastest. Its standard turbocharged four-cylinder engine comes with 310 horsepower. If you go with the Shelby GT5000, you get a 5.2-liter V8 that offers 760 hp. The Mustang handles going from zero to 60 mph in just 3.5 seconds.
What Matters Most To You?
Even in areas where there is a clear winner, most of the critical specs between these iconic cars are similar. It really comes down to which vehicle speaks to you the most. If you're not sure, set up appointments at your local Ford, Chevy, and Dodge dealers and take these beasts for a spin.
This post may contain affiliate links. Meaning a commission is given should you decide to make a purchase through these links, at no cost to you. All products shown are researched and tested to give an accurate review for you.