Kia makes a full lineup of amazing SUVs. From the premier Kia Telluride to the tiny Soul, there is an SUV for everyone. These vehicles offer the latest technology to improve your overall ride. You'll find everything you want in a modern SUV: a full suite of driver-assist safety features, available all-wheel-drive, and more.
How Does the Kia SUV Lineup Size Up?
If you're just getting started on your SUV shopping adventure, here is a basic comparison of how Kia's SUVs size up:
Kia Telluride
Wheelbase: 114.2 inches
Passenger volume: 79.3 cubic feet
Cargo volume: 21 cubic feet
The Kia Telluride is one of the most popular SUVs to hit the market in generations. With room for seven adults and tons of storage space, this is the largest SUV in the Kia lineup. Drivers love the potent V6 engine (291 horsepower; 262 lb-ft of torque) and available self-leveling rear air suspension for a quick and smooth ride. This beast can also tow up to 5,500 pounds.
Kia Sorento
Wheelbase: 110.8 inches
Passenger volume: 144 cubic feet
Cargo volume: 13 cubic feet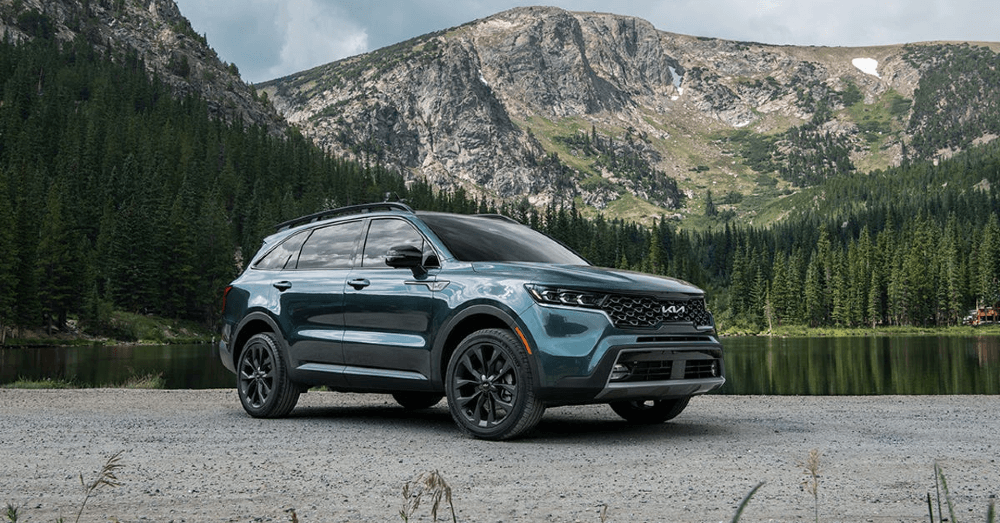 While the Kia Telluride is the largest SUV you can get from Kia, the Sorento comes in a close second. This SUV comes with several powertrains, including a 2.5-liter turbocharged four-cylinder (281 hp) and even an eco-friendly hybrid option. You have the choice of two rear rows of seating, or you can swap out the second row for captain's chairs.
Kia Sportage
Wheelbase: 108.5 inches
Passenger volume: 109 cubic feet
Cargo volume: 40 cubic feet
The Kia Sportage provides exceptional styling that separates it from its rivals. The newest version adds a little more space inside. Shoppers can choose from a four-cylinder engine (187 hp), a hybrid engine (226 hp), or a new plug-in hybrid engine (32 miles of electric driving range). The inside is full of upscale materials that pamper up to five passengers. Fewer rows inside means that each seat has a little more head and legroom than in some of the larger Kia SUVs. Enjoy even more versatility with the dual-level cargo floor.
Kia Seltos
Wheelbase: 103.5 inches
Passenger volume: 99 cubic feet
Cargo volume: 27 cubic feet
The Kia Seltos fits nicely between the smaller Soul and midsize Sportage. Surprisingly, the Seltos offers more space for passengers and cargo than other vehicles in its class. Drivers can choose between a 2.0-liter engine (146 horsepower) or a turbo 1.6-liter (175 hp) engine. This SUV's smaller size helps it achieve an EPA-estimated 35 mpg.
Kia Soul
Wheelbase: 102.4 inches
Passenger volume: 101 cubic feet
Cargo volume: 24 cubic feet
The Kia Soul might be the smallest SUV in the Kia lineup, but it has a huge personality. There is currently only one engine choice for the Soul. Don't worry; the 2.0-liter four-cylinder (147) is powerful enough to help you zip around town with ease. The taller roof and boxy shape help give this ride even more passenger space than you might expect.
This post may contain affiliate links. Meaning a commission is given should you decide to make a purchase through these links, at no cost to you. All products shown are researched and tested to give an accurate review for you.